Printed Motocross Jersey – SIGNATURE Cyan
– Add name, race number and logos free of charge.
– We have all industry logos and can also use your sponsor / race team logo or text.
Turnaround Time:
– Work begins on your order after a cleared payment is received;
– Within 1-3 business days a .jpg picture with a design is emailed for proofing, if you opted for a Design Proof;
– Nothing will be printed without your approval;
– Production takes up to 7 business days after the design approval.
Premium quality materials:
– 100% Polyester
– Can be washed / dried with no loss of colour intensity. No fade, no cracks, no peels.
Size Chart
– Printed Motocross Jersey measurements have been taken of finished product laid flat. When choosing your size,
please keep in mind that the jersey should be loose-fitting to be able to move freely.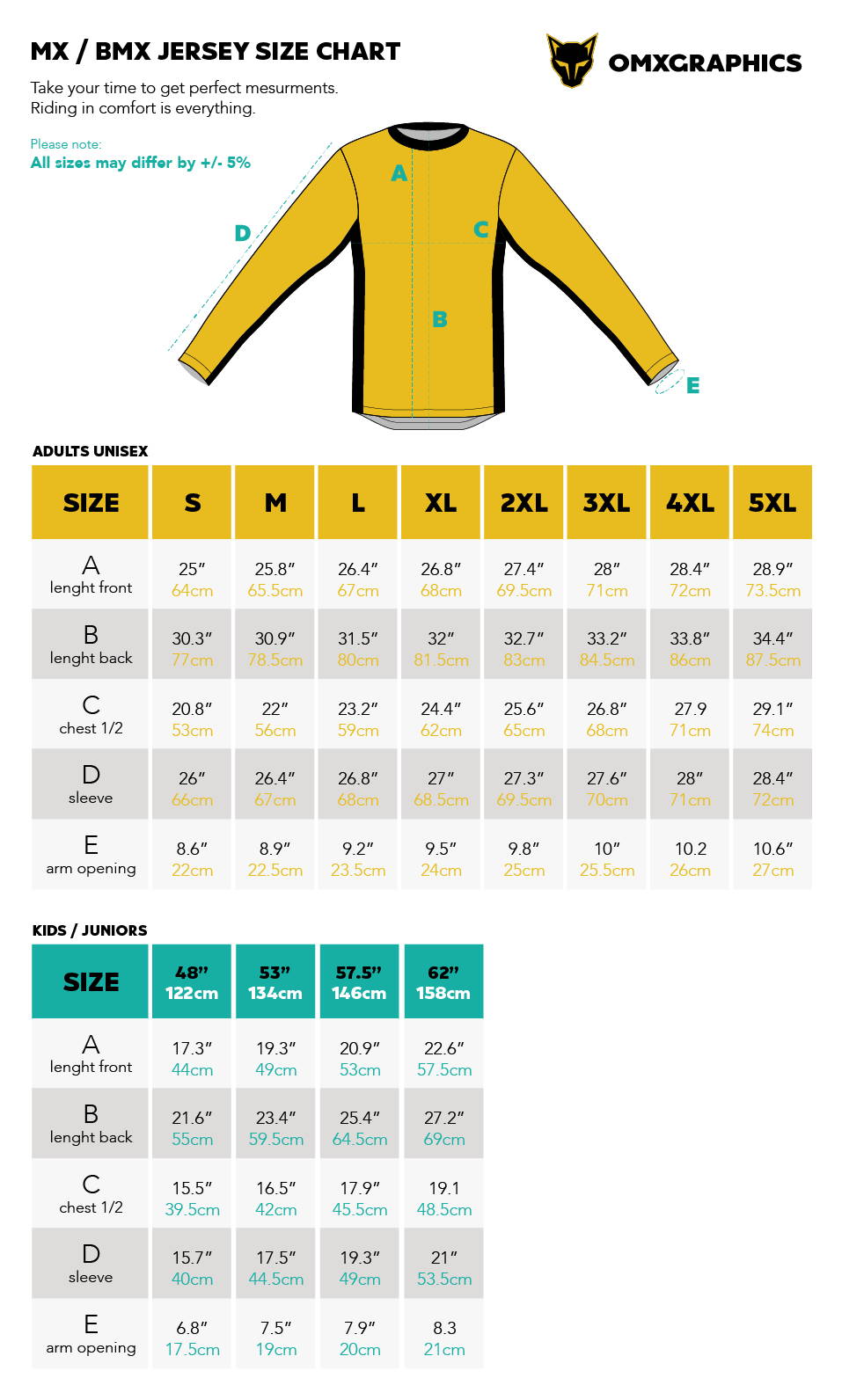 In the world of motocross having the right gear is more than a luxury, it's an absolute necessity. Boots, shin guards, elbow and knee guards, shoulder guards and roost deflectors keep you in the game and ensure you get across the finish line in one piece. But there is one more essential item that should never be overlooked: Motocross Printed Jersey.
Firstly OMX Printed Motocross Jersey is made to fit like a glove. Secondly it provides you the protection you need at a price you can afford. We understand that dull doesn't get you noticed, every Printed Motocross Jersey we sell is a catching piece of custom dirt bike gear that's been continually refined in order to reach its current level of cutting edge design, comfort, durability and performance. If you are serious about motocross you need a stunning, reliable, tough and good looking MX jersey to help you creating an authentic identity of your own. While MX racing is one of the most intense sports on the planet it's also intense fun and boasts millions of passionate fans worldwide. It's important that a racer play to their base and that their outfit reflect their sense of commitment and their individuality.